JUBILEE EDITION – ELECTRONIC SOUND
2019-01-16
Out on 14 Februar: 50. issue Electronic Sound with limited Bartos single
For the first issue of
Electronic Sound
magazine in 2013 Karl Bartos spoke with Mark Roland about the making of his last solo album "Off The Record", about Bavarian Hausmusik and why some music will stay forever. This February the 50th issue of Electronic Sound will be released. And to celebrate this jubilee it will be published with a special limited vinyl edition of two Karl Bartos tracks taken from the album "Off The Record".
"Without A Trace Of Emotion" and "Vox Humana" are packaged in a gatefold sleeve with a free poster, featuring the single's sleeve artwork together with the entire text of that Karl Bartos interview "Inside Herr Karl", reprinted from Issue 01 of Electronic Sound. Out on
14 February
– what a nice Valentine's gift.
GET YOUR COPY
FOUR WORDS FUTURE PROJECT ON TV
2019-01-02
TIME SPACE SOUND SILENCE / words by Karl Bartos
Last year Karl Bartos contributed to the project Four Words Future that allows people to present four-word statements on complex issues through language. In January 2019 a short film sequence is broadcasted on TV in the UK:
01-31-January 2019 www.channel14.com
:
FOURWORDSFUTURE
FOUR WORDS FUTURE on TV:
The future of auditory media: TIME SPACE SOUND SILENCE, words Karl Bartos, animation Graham Hibbert
The future of football and faith: HOME FAITH SPIRIT MODERN, words The RedmenTV, image Propaganda-Photo, animation Angus Evans
The future of the world: ANOTHER WORLD IS POSSIBLE, words Mark Stewart, image The World, animation Angus Evans
The future of technology: EVERYBODY IS A NOBODY, words Amina Abbas-Nazari, animation Ricky Adam & Alan Dunn
The future of youth: LESS WORK ONLINE KIDS, words Harthill Youth Centre, Liverpool & Metal, animation Angus Evans
Now on channel14.com 

ANNIVERSARY OFFER: SIGNED BOOK COPY
2018-08-25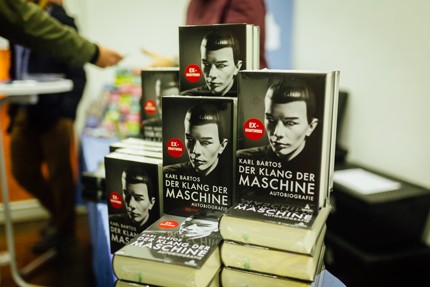 Get your signed copy! ©Patrick Beerhorst
+++++++++++++++SORRY, ALREADY SOLD OUT++++++++++++++
On 25 August 2017 Karl Bartos' long-awaited autobiography "Der Klang der Maschine" (The Sound Of The Machine) has been published in Germany. It's the only and first book that reveals the act of creation of Kraftwerk's music - written by someone who's belonged to the inner circle and writing team.
Although the main focus is on Kraftwerk, it is, however, a lot more than a book on the band, it's also a book about the music that inspired him to become a musician against all odds. It's about living in the sound of music since the Sixties and about the question how creativity developes and how the meaning of music has changed in the age of streaming.
Exclusively for our shop costumers Karl Bartos will sign a few copies (in German language). Please check out our shop! This special offer is limited and only available until Saturday, 25 August, 8 pm.
"[...] He turns out to be a passionate music historian, who knows about Igor Stravinsky as well as the Beach Boys. His curiosity and his knowledge make Bartos' autobiography Der Klang der Maschine a reading that is also interesting beyond the great theme of Kraftwerk."
Musik Express, November 2017