COMING SOON: DER KLANG DER MASCHINE
2017-07-22
Karl Bartos: Der Klang der Maschine - Autobiography
Ex-Kraftwerk and co-author of "The Man-Machine", "Computer World", "Tour de France", "The Robots", "The Model" on his biography in sound.
Stay tuned for the details!
Foto: Al Overdrive
10. ANNIVERSARY: MOEBIUS REDUX
2017-01-07
Almost 10 years ago in 2007, this brilliant documentary about French comic artist Jean Giraud aka Gir aka Moebius has been released: Moebius Redux, A Life in Pictures by Hasko Baumann.
I's been a great honour for Karl Bartos to compose the score. Jean Giraud died on 10 March 2012.
DVD-TRAILER MOEBIUS REDUX
LIMITED COMMUNICATION BOX SET
2016-10-07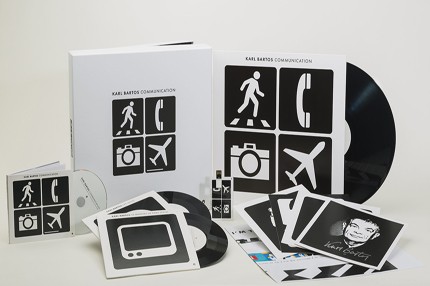 The strictly LIMITED COMMUNICATION BOX SET! This collector's item contains all COMMUNICATION 2016 products.
The innards of the box is built like an upside down pyramid - starting with the vinyl album and ending with an USB-stick containing all formats and some goodies. Special: the "I'm the Message" poster telling the story in pictograms and lyrics. Nice one.
The Art of Communication is done by Lucas Buchholz and Bernd Brink aka Weissraum Design/Hamburg. Again, since they have been responsible for the design of the original release in 2003 as well.
Order:
TROCADERO SHOP
JPC
AMAZON
FORCED EXPOSURE (USA)
SONIC RENDEZVOUS (Benelux)
The COMMUNICATION BOX SET is strictly limited to 1.000 pieces and comes in a mock up-box:
1. 12" Vinyl-Album "Communication"
2. exclusive DIN A1 Poster "I´m The Message" (mm: 594 x 841 / inch: 23,3 x 33,1)
3. limited 7"-Vinylsingle "Life"
4. limited 7"-Vinylsingle "15 Minutes Of Fame"
5. 1 7" signed Karl Bartos portrait
6. 3 pictographic prints
7. Digipak CD-Album
8. USB Card incl. all formats, plus 12" remix-single (Matthew Herbert´s Doctor Rockit Remix), video, graphics